FLEXIBLE INTERMEDIATE BULK CONTAINERS FOR BUILDING MATERIALS
When shipping building materials in bulk, it is crucial to only use certified containers that have been rigorously tested. Those in the construction industry rely on flexible intermediate bulk containers, or FIBCs, to safely ship their building materials. FIBCs provide an efficient and safe way to transport construction materials such as sand, dirt, gypsum, and gravel. At Bulk Matrix, we produce high-quality, yet cost-effective solutions for companies requiring bulk sacks.
| Our Quality Certifications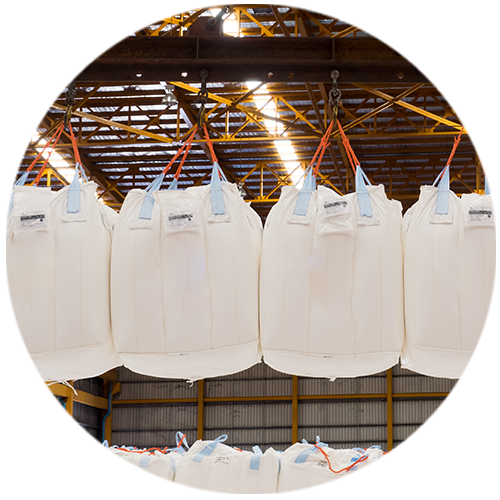 WE RIGOROUSLY TEST OUR CONSTRUCTION-GRADE FIBC BAGS
We perform rigorous and intensive testing on all of our FIBCs at our in-house laboratories. Our quality processes involve a variety of state-of-the-art pieces of equipment including sewing machines, ultrasonic cutting, metal detectors, vacuum suction, and light table inspection stations. Bulk Matrix follows all pest control, mock recall, and traceability procedures, ensuring that our bulk bags are of the highest quality. Furthermore, we ensure that our employees are kept up-to-date on all training, safety, and handling guidelines necessary to maintain the highest standards in the industry for bulk bags used to pack building materials. At Bulk Matrix, we also follow environmental programs that protect the environment, promote sustainability, and support green initiatives.
HIGH-QUALITY AND BUILT TO LAST
Using FIBCs is a safe and reliable way to ship heavy building materials in bulk, such as sand, mortar, gypsum, and cement. At Bulk Matrix, our FIBCs are only made with high-quality, virgin-grade materials that are specially woven to withstand the heavy weights required in the construction industry. Bulk Matrix FIBCs are an efficient and safe way to ship building products throughout the country and the world.
ENVIRONMENTAL MANAGEMENT SYSTEM CERTIFICATION
Bulk Matrix facilities proudly hold certifications for ISO 14001, an international standard which regulates the systems required for an effective environmental management system. This certification is intended to help businesses and organizations minimize areas within their operations that negatively impact the environment and to mitigate their carbon footprint. The ISO 14001 certification is only awarded to organizations that maintain good environmental policies, follow specific laws and regulations, and continually strive to reduce waste.
FIBC BAGS FOR EVERY INDUSTRY
At Bulk Matrix, we produce more than just flexible intermediate bulk containers for building materials. Our FIBCs are used extensively in a variety of industries including but not limited to food products and ingredients, pharmaceuticals, industrial minerals, and chemicals. To order your rigorously tested, certified, and construction-grade FIBC bags, contact Bulk Matrix today.
CONTACT US TODAY TO GET STARTED
Do not fill this form out if you're a solicitor.