MINERAL-SAFE FLEXIBLE INTERMEDIATE BULK CONTAINERS
When shipping metals, minerals, and other materials in bulk, mining operations require certified industrial sacks to follow specific regulations to ensure that your product arrives safely. Trust in the durability and safety of flexible intermediate bulk containers (FIBCs), made of high-quality materials designed to hold heavy filling weights. FIBC bags are made for extreme environments so that they do not tear and they will not contaminate the contents of the bag. At Bulk Matrix, we guarantee FIBC bags that will provide the necessary strength and durability required to maintain safety and efficiency throughout the mining site.
| Our Quality Certifications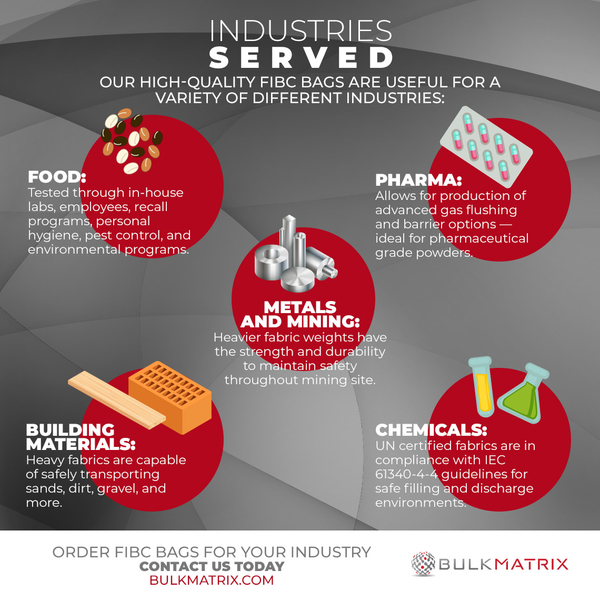 OUR FIBC BAGS FOR THE MINING INDUSTRY ARE TESTED
Any FIBC you find on the market must be produced in a factory that adheres to strict manufacturing guidelines and regulations. Here at Bulk Matrix, our FIBC bags are made and assembled in a clean environment with only 100% virgin-grade materials. Our bags are tested rigorously in-house to make sure that they are up-to-code and reliable for use. Additionally, our employees are regularly trained and follow all industry-specific guidelines, including those set by the metals and mining industries. Our employees and our entire manufacturing factory follow strict hygiene guidelines to ensure that no outside contaminants come into contact with your FIBC bags. Last, but certainly not least, we also implement environmental programs because we love our planet and love doing what we can to protect it.
FIBC BAGS FOR THE METALS AND MINING INDUSTRY
ENVIRONMENTAL MANAGEMENT SYSTEM CERTIFICATION
Bulk Matrix is proud to hold a certification for the ISO 14001 international standard which outlines requirements for an effective environmental management system. This certification is meant to help businesses and organizations minimize operations that negatively impact the environment. The certification is only given out to those who demonstrate an environmentally-friendly mindset by following certain laws and regulations, consistently reducing waste and the business's carbon footprint.
QUALITY MANAGEMENT SYSTEM CERTIFICATION
Bulk Matrix also holds a certification for the ISO 9001 international standard that specifies requirements for a quality management system. This certification was made to help organizations and businesses focus on improving their customer relations, motivating management, and continually improving overall daily operations. The ISO 9001 certification is only given to companies that consistently show that their customer service is top-notch.
FIBC BAGS FOR EVERY INDUSTRY
At Bulk Matrix, we don't just make FIBC bags that are designed for the metal and mining industries — we have bulk containers that are safe for shipping foods, pharmaceuticals, chemicals, and more. Plus, our FIBC bags come in four different styles — A, B, C, and D — designed to hold different products for different industries. Learn more about our FIBC and other bulk shipping options, and then contact Bulk Matrix today to get started!